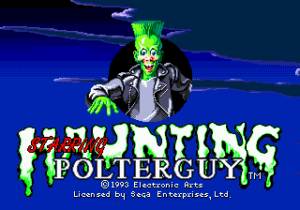 Another week of retro goodness with Retro Monday. This week I was given the game Haunting: Starring Polterguy to play, by Hyperion from the forums. I've have never heard of this game, let alone played it.
Haunting is a game for the Sega Mega Drive, it came out in 1993. Having never played this I had no idea what to expect going in, turns out I didn't have to worry if the game was bad, as it turns out it really is good. Firstly I'll get the negatives out of the way. The controls are somewhat loose for a start, and sometimes when collecting green Ecto it seems like you have to be really precise as touching it doesn't work, you have to go on it in a specific spot and the dungeon/underground levels aren't as good as the main part of the game.
That's my negatives. On the positive side of things we have a game that oozes charm and fun. You as Polterguy have a family that you haunt, you follow them from house to house scaring them silly. You literally have to jump in and out of objects for the family members to then get scared by. The different animations are great and it was  always fun to try and get them scared in different ways. Even the way in which the family reacts is amazing, sometimes – for example – Mimi Sardini ( the little girl) will have her hair stick up on ends and where she gets really frightened she literally wets herself, or with Vito Sardini (the Father) he jumps in the air screeching, or opens his mouth to extortionate proportions or even just flat out passes out with a big thud.
The aim of the game is simple enough, scare 4 people so much that they all leave the house, collect Ecto that drops from the Scaries to keep scaring longer without going to the dungeon and have loads of fun doing it. With one thing being clear EA, yes EA, used to make really unique and fun games.
Verdict: Highly Recommend
[embedyt] http://www.youtube.com/watch?v=NgWutWmadPs[/embedyt]