GRcadeTwitchcast – E3 Discussion Videos!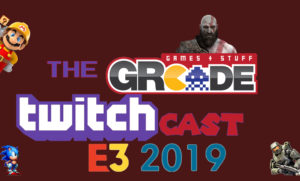 The Electronic Entertainment Expo which most just call E3 is the time of year us game lovers call our Christmas. It's a little daft, but the sentiment is pretty simple, we watch people sell us stuff… Wait, that's not what Christmas is about?
I'm not writing a massive article about E3 here, but instead a few of the people from GRcade took to Twitch and decided to talk about E3, some of the conferences were at convenient enough times for people to have live reactions to them, while others weren't and will be discussed in a general E3 round up in the end.
First video up is Microsoft. Doom and Pedz were available for this, ad7 did try and join, but, was unable to do having Mic troubles. The Watching Artist (Matt) joined approximately half way through as Doom had to leave, but he did return to talk a tiny bit about the conference overall.
Ubisoft. Ah, good old Ubi, you can't help but admire their crazy silliness. Do they stay as silly? Let's have a look.
Inside Xbox. Another Xbox Conference, it's not a '60 games announcement' conference, but it does show a few new games and talks a little about the future of the Xbox One. I think Doom put's it well at the end of the live viewing.
Lastly, we have the Nintendo E3 Direct. We have Jenuall, The Watching Artist (Matt) and Pedz taking part in this one. They didn't watch the direct during its live broadcast but they did watch it for the first time, together.
We haven't been able to get together since this, so a round-up isn't likely going to happen, but we all had fun doing this and we hope we can get more done for future events. Thank you all for watching and listening to us all prattle on!