Monthly games review – Pumped BMX+ (PS4, PS+)
It is entirely possible to argue that Microsoft and Sony are taking gamers for a ride by charging extra to access online multiplayer features through Xbox Live Gold and Playstation Plus, especially as the latter was not necessary to play online with the Playstation 3. Each service offers several "free" games each month as long as you have an active subscription with them as an incentive, the idea being that by paying a flat fee of around £30-35 per year (this price fluctuates with online deals, competing retailers and seasonal sales) you get a handful of titles each month meaning that you could technically never have to buy a game for your console of choice and stick to the offerings that Sony/MS present.
Is this worthwhile? Part of the problem is that we often don't know what is going to be on offer each month and the quality can fluctuate greatly. There have been a few exceptions; The Banner Saga 2 was available as part of Microsoft's Games With Gold program at launch. Following on from my article about how to save money on games, I am going to periodically present a first impression of some of the games that turn up on these services as often they are less well-known indie games that are not popular or frequently discussed or whether they're potentially worth buying on their own if for whatever reason you either don't have any of these services or want to know if they're any good regardless.
The first game I'm going to talk about my first impressions of is Pumped BMX+, a two-dimensional sports game which was on Playstation Plus in November 2016 but is also available on Xbox One, Steam and the Wii U.
[embedyt] http://www.youtube.com/watch?v=cIdP-VAwFAM[/embedyt]
I went into this expecting to be disappointed; the version available here is a consolidated mobile port and I was wary it would be a simple Trials knockoff with some fiddly tricks thrown in. It is one of the better examples of a game making a jump from phones to "real" consoles; there are no microtransactions or examples of copy-pasted UI to betray its history and apart from its slightly basic visuals this could pass as a standard indie game developed to a smaller budget.
You control your slightly blank-faced BMX guy on a 2D plane as you navigate jumps, do tricks in the air and grind rails to complete sets of objectives for each level. You might have to do a particular trick, get a certain score or pull off certain combos to unlock the next and more difficult set of challenges. The control scheme has been successfully translated from touch screens to a controller; you hold down X to accelerate, release it as you are about to jump, use the right analogue stick with the shoulder buttons to pull off tricks and spins then hold X again to land quickly to keep momentum for the next jump. You can just blitz through the levels or chose to get deep into the score/trick system to complete every set of objectives which push you to improve through using the tools provided. It keeps the mechanics (relatively) simple and challenges you to use them better as you progress; a framework which made Trials, Trackmania and other games like it so appealing and rewarding.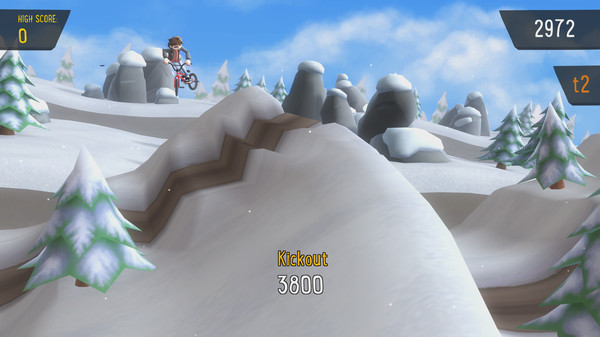 My only complaints are that from what I've seen the level design is a bit basic; you're not going to get the wild variety of strange and out-there levels of Trials Evolution here. Also the soundtrack is incredibly annoying, I turned it off after a few levels so to keep the right atmosphere you might want to find some early 2000s skate punk or the soundtrack to your favourite Tony Hawk game instead.
Pumped BMX+ was a pleasant surprise that I may well come back to every now and again and is one to watch out for in Steam sales/future Games with Gold promotions.