Retro Monday: Turbo Out Run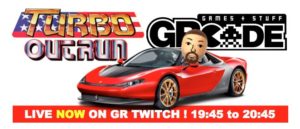 First off, I'll let you know that I am bad at racing games, ask those who's seen me on a Retro Monday where I've had a racing game, or the folk I've played Driveclub and Mario Kart with.
Anyway, Turbo Out Run is the Sequel to Out Run, it was originally an arcade game where you had a steering wheel and a big booth to sit in. I have played the Mega Drive conversion, which obviously doesn't have the same feel as sitting down and taking the wheel. I will say that the game is still really enjoyable, if – at least for me – a little difficult. I only managed to get to the 3rd stage and nearly to the 4th, but it was hard going. You need to know when to speed up, slow down, use your turbo boost at the right times, and using the turbo for me was tricky. Most of the time I'd use it, I'd come to corners which were difficult to take. I assume that finishing a race without using turbo must be hard if not impossible to do and using it optimally is no easy feat.
The game is your typical arcade racer, and follows the Out Run style, where you get in your Ferrari and drive to the checkpoints as fast as you can, the visuals are nice, though not as nice as their Arcade counterpart which has a lot more on screen also, and the soundtrack is pretty great. All in all, you've got a neat and tidy arcade racer that's probably a bit underrated compared to it's older brother.
Verdict: Recommend.