Retro Monday: Desert Strike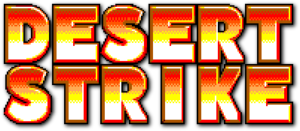 In the 90's EA used to make a variety of games that they don't seem to make now, one of those games series was the Strike games. There were 5 in total, but today we're looking at Desert Strike: Return to the Gulf, which coincidentally is also the very first game in the Strike series.
As a kid I remember sitting in my room, blowing up buildings, gunning down enemies and saving some good guys, basically I have fond memories of Desert Strike and really enjoyed it back in the day. Playing it again Monday though, I felt the game just wasn't as good as I remembered, I only played the first level – honestly the game is tough – and the game could improve from the second level on wards. Don't get me wrong the controls are good and tight, the level design is fine. It's just that the game seems to have too many things happening at once. By that I mean you'd be in the middle of a battle with some AAA's and then your fuel will run low, you missiles will run out, you then have to leave the fight to go and find fuel barrels and ammo and go back to carry on. You also take damage really quickly, so to replenish your armour you need to rescue soldiers that are M.I.A and safely deliver them to a raft, it's all good in theory, it just, to me, spoils the flow of the game. Now that's said it's still a good game, it's great when you take out a reaper, or a load of AAA's and few vehicles with rockets on them and a couple of grunts before taking out an airfield of its planes and buildings all while leaving craters in the desert sand, and as I have previously said the controls are spot on. I would definitely recommend playing the game if you're interested in retro titles, it's a good game that is quite difficult to master, but taking down the enemy is extremely satisfying.
Verdict: Recommend.
[embedyt] http://www.youtube.com/watch?v=SW01UtD9ECw[/embedyt] *Warning Contains Explicit Language*