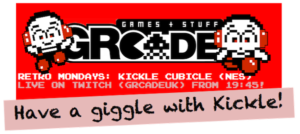 This game has come up several times on some peoples lists to get played, but until this week hasn't managed to get the votes it's needed to actually win.
It's yet another game I haven't played, which is now becoming a common theme.
Kickle Cubicle is a puzzle game, so put it simply you control a boy named Kickle , and you have to turn enemies into ice cubes and hit them into water which create ice paths to the Dream Bags which in turn finishes the level.
It all sounds pretty simple and the earlier levels are, but the do ramp up in difficulty and while I didn't get to the end of the game to see the meatier puzzles I did get about half way through. I can safely say that it's an interesting take on the puzzle genre. You can only turn certain enemies into blocks that can be used to create ice paths, others can be frozen, but defrost after a while, others can be frozen, then some smash and more. All the while each enemies you defeat respawns, so you have to constantly keep an eye out and what's respawning and what's already on the ice field. You also have bosses at the end of each set of puzzle stages, which is simple to beat, just avoid the attacks and hit the items back at them.
Visually the game is really nice, especially considering it is mainly ice. the sprites are really well done, are vibrant and cheerful. The Music in the game is catchy and again cheerful.
Overall the game is really good, and it was worth the wait to play, I can safely say that it's one of the best puzzlers I have played.
Verdict: Highly Recommend