When I buy retro games they tend to belong to one of three categories. They are games which I owned as a kid and want to get again because I have fond memories of them, games I remember friends owning and which I have fond memories of playing at their houses, or are games which I can get cheap and figure what the heck I will give it a bash.
Today's game comes from the second category. I had quite a few friends at school and all of them owned one console or another, but the most owned console was probably the SNES. Not everyone had the same taste in games though. So sometimes when I would go to visit a friend's house I would get to play a game that I otherwise wouldn't have got to try. One particular friend was mad on sports – cricket, football, boxing, motor racing – and unless it was a crazy sports related title like Punch-Out!!, he would have it.
One day when I went round he had a new game, one I hadn't really heard much about and that game was Power Drive. The first thing I noticed on its case was that it was published by U.S Gold, but at the time I had never heard of the developer Rage Software.
U.S. Gold was founded in Birmingham in  1984 as the publishing division for a software distribution company called Centresoft. Its primary reason for existence was to republish popular US computer games in the UK. For ZX Spectrum and Amstrad CPC users the U.S. Gold logo became a big part of our lives. U.S. Gold no longer exists and nor does Rage Software. Rage's first title, Striker, sold more than one million copies and established Rage as a major creative force in the interactive entertainment industry. But ironically the very thing that started them off – a football title – would ultimately be its undoing. In 2000, Rage began to expand into publishing. Due to a long run of games that did not sell as expected, the lack of sales and costs associated with their  David Beckham franchise tends to be considered to be what ultimately led to the company going bankrupt in 2003.
When my friend popped Power Drive into the cartridge slot I have to admit that it was nothing like what I expected. Putting it simply Power Drive is an arcade racing game based around rally driving. There is not a great deal of opening presentation to the game, you pick your car from an initial choice of two and then you start your career.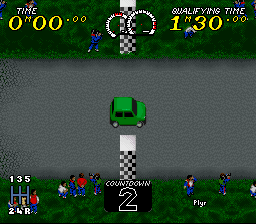 The graphics are isometric, you can see the whole of your car almost as if its a remote control car that you're looking down at. This might seem to be a little basic at first but with the tricks under the game's bonnet such as full sprite rotation and super smooth screen scrolling in every direction you soon realise that what looks on paper like average graphics actually look a hell of a lot better when moving. There are a few tiny issues with screen flicker but this mostly happens when the arrows that warn you of upcoming turns appear over the top of other objects. It's only a momentary issue and you can still tell what direction the arrow is pointing so it doesnt really affect your game. There are night levels, and the following might sound like a strange thing to praise but the car's headlights are handled brilliantly. Both of the headlight beams are animated separately, which just looks brilliant. The two lights overlap each other and it's just a brilliant little touch which I can't help but mention. That's enough about the cars and their headlights, it's time to talk about the backgrounds. They at first seem a little bit basic. The tracks and the scenery both look a little plain at first but they are full of subtle little details which take into account the characteristics of the country you are in.
The music is typical early nineties game music. I can't claim it's amazing but then again it's not bad. Basicaly it does its job which is to be moderately exciting and to muffle the engine noises, etc so that they dont became a pain in the butt. You can turn the music off if you would prefer to hear your engine or if you're going to play your own music while you play.
The game has three types of stages, they are individual time trials, head-to-head races against the computer, and skill tests. There are eight rounds of gameplay, set across a range of countries. As you race you get prize money for winning races but it is important to note that the cost of repairing your car is very realistic compared to other games, meaning if you have repeatedly ping-ponged your car off of the walls then 90% of your prize money is going to be spent on knocking your car into shape. You can race with a knackered car, but it becomes harder and harder to control and slower so it's not really recommended.
At first this game will seem hard because it doesn't control like a lot of other SNES racers, or at least not many of the wildly popular ones. If you have played either RPM Racing or Rock n' Roll Racing then Power Drive would be down your alley. Once you get used to the controls though it becomes a challanging but fun driving game. I would give this game eight out of 10. I really enjoy it still today and can easily throw it on for a quick hour again and again. This game can be got for around £10 to £15. If you want to try it I would keep my eye on the various sites and try to grab a copy as close to the £10 mark as possible. The game is not wildly talked about and doesn't seem to have any particularly big cult following.