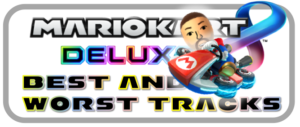 Mario Kart 8 has been out for three years on the Wii U, but with its fairly recent re-release on the Nintendo Switch, I thought I'd jot down the five best and worst tracks in Mario Kart 8 Deluxe.
I'll also add a little on my feelings of the track. They won't be long-winded, just a sentence or two to convey my thoughts. I must add that this is my own opinion and not that of GRcade. I did think it was pretty obvious, but the whiny baby Qikz told me to do this as I'll be rating his beloved Cheese Land in a way he doesn't like.
The best
Mount Wario
The is in the top five for its sheer awesomeness. You start at the top of a mountain and work your way to the bottom like a skier would. When I mentioned this track to someone online, after saying Cheese Land was bland because it was just cheese everywhere I was told this was bland also, as it's just a snowy mountain. It isn't bland though, far from it. It consists mostly of a snowy mountain, yes, but there is variety, there's a cave with water flowing through it, the side of a dam you drive on where water is pouring down it, and then there's an area with a load of trees which act as pretty good obstacles. You even have red flags dotted about in the last-but-one section as if it was there from a previous skiing race. This track is clearly in the god tier.
Big Blue
Another great track, it's definitely in a tier equal to Mount Wario. The reason being that the track layout is immense, it doesn't have the sense of speed that Mute City has, but the layout is better, as is the music. Now, normally I prefer Mute City's theme to Big Blue's but in MK8D there's no question Big Blue wins hands down. There's also quite a bit going on in the background, with its waterfalls and planes flying overhead, and I'm sure at one point at least I saw a track in the background with an F-Zero like vehicle on it. Again, god tier track and should be the track you go for when it comes up.
Ribbon Road
This is another fantastic track. It's colourful, has a fair bit going on in it and the good thing about being colourful it isn't bland. The music is also ace too. I like that it's a toy set up as if either Mario and co. are racing on a giant's toy or it's as if Mario and co. are toys and someone is playing with them. If this comes up give it a vote, you won't be disappointed.
Rainbow Road 64
For me this is the best Rainbow Road Mario Kart 8 has to offer. I like the new Rainbow Road, but it just isn't as nice as this, and the music in this is one of the best pieces in the game. I also really like the SNES Rainbow Road and think it's actually not too far behind this in terms of good levels, but this wins out for its great track design, interesting backgrounds and music. The only downside is that it's only one lap.
Hyrule Circuit
Another great track and the last of the five I have chosen as the best. Again another track with a great musical piece supporting it. I already love the Zelda theme, so having it remixed with guitars and having a more rock style to it is only a good thing in my eyes. I also like the design, the fact the coins are rupees and other little touches. The shortcut by the Master Sword is also a neat little thing that I don't think I've seen in another track in Mario Kart.
The worst
Cheese Land
What do I say about Cheese Land? Well to start, it's extremely bland it's just yellow everywhere, and the only thing that isn't are the chain chomps. The track layout isn't that good either, it's not fun to race on and the people who like it have no soul. Clearly an evil track.
Wario's Goldmine
I'll admit, it's not as bad as it was on the Wii. The minecarts aren't an obstacle like they were previously, but the level just feels so unfun. There's something about it that doesn't click, it's not like Cheese Land in its blandness, but it doesn't really have anything about it that screams this is fun.
Dry Dry Desert
I wasn't sure whether to go with this or Bone Dry Dunes as both are rubbish and pretty bland, they're just a sand level with no colour. The only reason I picked this as a worse track than Bone Dry Dunes is that BDD has a ship that shoots coins.
Toad's Turnpike
I think back to the N64 version of this and thinking I used to like it, am I thinking of a different track? Have they changed something? Or was I just wrong? The track is uninspiring, and the traffic is pointless. It very rarely hinders how you play, so it's just there. You'd think the traffic would make you think on your feet to weave in and out of it to get to the top, but the track doesn't do that, cars and trucks are basically scenery.
Grumble Volcano
The final of my top five worse tracks from MK8D is Grumble Volcano. I didn't like this on the Wii, and it's surprising. You have terrain that falls away, and a volcano going off in the background, but I just can't get behind this track. It should've been great, but I cannot get any enjoyment out of it. To be frank, it seems more on me than the track, but I simply don't like it.
Final thoughts
While I don't think the worst tracks are truly awful, there is a lot in the way of preference to the tracks, layouts, and so on and it would be great to get comments to see where people line up with their top tracks, or just to let me know why 'X' isn't a great track and why 'Y' is. So, either leave a comment or pop into the Mario Kart 8 Deluxe thread to give me a piece of your mind, you can also join us for Mario Kart Monday's as well.
Disgaree with Pedz? Settle it on the track and join GRcade for Mario Kart Mondays Deluxe at 9pm on Monday nights. Click here for the tournament details