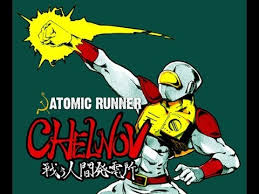 There was an arcade game called Chelnov – or to give it its full title Atomic Runner Chelnov – Tatakau Ningen Hatsudensho, which would translate as Atomic Runner Chelnov Fighting Human Power Plant. It's a bit of a mouthful right? It was developed and published by Data East in 1988.
One of the things I love is when a game has a big history behind it, mostly because sometimes the stories which exist in the background of a games history can be very interesting and almost as worthy of note as the games themselves. This is one area in which Atomic Runner Chelnov certainly delivers.
There was a heap of controversy surrounding this game's original arcade release. With the Russian-style hammer and sickle being present on the title screen, the fact the game's story/the main character Chelnov's origin is that he received his power due to a nuclear explosion and his exposure to the radiation. And on top of this the fact his name is spelt very closely to how Chernobyl, the site of a real life nuclear disaster, is written in Japanese (チェルノブ and チェルノブイ. Well, when you throw all of this together it is easy to see how this game got some major attention in a bad way. After all when you basically base your game on a disaster – in this case the Chernobyl disaster – just a year and a half after it happened you're clearly going to annoy people. Just imagine if you took the last high school shooting or terrorist bomb incident and started producing a game on it now and made the dots pretty easy for anyone with half a brain to connect. You'd basically be asking for a lot of fuss and controversy, wouldn't you?
The arcade game was ported to the Mega Drive in 1992, but it wasn't a straight conversion, in fact there were a lot of alterations. The Japanese version kept the same name as the arcade version, but in Europe and North America it was released with the much simpler title Atomic Runner. The game's plot was also altered. Chelnov was no longer a coal miner caught in a nuclear blast. Instead he was a regular guy wearing a special advanced combat suit the whole nuclear angle was removed. In fact basically the whole story was changed.
I will quickly run down this version of the game's story in all of its B-movie glory. Chelnov was a young scientist who worked with and lived with his father and sister. They lived a happy and peaceful life and then one night when Chelnov went for a jog he heard a huge explosion coming from the direction of his home. He ran back home to find his father barely conscious, with Chelnov's father's dying breath he explained beings called the Deathtarians had caused the explosion and that they were a species who had ruled over the Earth long before the dawn of mankind and that they had returned now to claim what once was theirs. Apparently Chelnov's father had known about them all along and that's what all of his and his family's research was for. Chelnov's father points towards a metal case saying that inside the case there is a suit – a suit which will increase a human's power making him a super human and inside the suit there are various weapons and devices. Chelnov's father also tells him that he must put on the suit and defeat the Deathtarians and not only does the fate of the world lay in his hands but also the fate of his sister who they have kidnapped. With this Chelnov's father passes away and with this Chelnov puts on the suit and becomes the atomic runner. You would think the game starts here, but no, it goes on to tell you Chelnov was overwhelmed by the share number of Deathtarians and became their prisoner. He was then tortured in an attempt to brainwash him, just as they thought they had broken his will though he lashed out in anger and broke free.
Now I like a B-movie plot as much as the next guy but I do have to admit I actually think the plot is a little heavier than it needs to be. Yeah there are a million games and films where someone killed someone's dad or kidnapped someone close to the main character but do we really need to give the player/main character three reasons to hate the game's villains? Surley either the killed father, the kidnapped sister or the imprisonment and torture on their own would have been enough reason to explain why Chelnov wanted to defeat the bad guys, we didn't really need to throw cliché on top of cliché did we?
So, you start the actual game by breaking out of an alien facility. The game plays like a run and gun game, except it's auto-scrolling. This kind of makes it feel unique compared to your usual run and gunner and in honesty I find the fact it's always pushing you forward as opposed to letting you kind of just stand about adds to the game's arcade feel. There are a variety of weapons and power-ups to collect, a whole bunch of enemies to kill, some pretty awesome bosses, and so much more.
The game's controls can best be described as interesting. So what can you do in your super powered suit? Well you can fire right, you can fire left and you can jump. You need to fire backwards and forwards as enemies will come at you from both directions. As previously mentioned your always travelling forwards, you can move further forwards on the screen but as its always scrolling forwards you can't go backwards. An interesting thing is as well as shooting enemies you can also jump on them in order to harm them, when you do this you will hurt them and simultaneously bounce off of them as well, in this way you can sort of bounce from enemy to enemy. Also, when you are jumping, if you land on top of an enemy you'll bounce off and do damage, instead of dying. This is a key mechanic. But be sure you're jumping! If an enemy hits you from below while you're on the ground, you'll die. Your boots only provide invulnerability when you're not touching the ground, evidently, for whatever reason. This definitely can be frustrating, when you try to jump on an enemy under the floor but just miss and they come up under you and kill you. Jumping on enemies can be a little hairy, but you've got to do it. This is the only controls-related complaint I have with the game. Jumping on enemies mostly works fine, but could have been done a little better. Its important to note you die in one hit, be this a hit from a bullet or physical contact with an enemy (well, apart from the contact of your jumping boot with an enemies head). There's no shield. When you die, you get sent back to the last checkpoint. Fortunately this game has a fair few checkpoints, so you don't usually lose too much progress. The game is pretty darn hard with its one hit death, but this is helped by the large amount of checkpoints and also the fact if you keep dying without making progress then the game will put more powerful power ups in front of you to try and help you. It still is a hard game and this doesn't totally negate that but it does make things a little bit more bearable at times. The game is one of those old games which is actually rather short, its difficulty kind of makes it seem longer than it is. In all honesty if the game was easier then you would simply fly through it.
The graphics for this game are a little hit and miss. As far as its arcade conversion status goes, I would argue that the graphics here are actually an improvement over its arcade cousin, yet they're still not that great compared to some other things you will find on the Mega Drive. Everything does run smoothly though and I actually like a lot of the changes that were made to the Mega Drive version. One thing I have to say is the backgrounds are a heck of a lot more interesting and detailed on the Mega Drive and you do get lots of enemies on screen at once. I need to give this game a huge shout-out when it comes to its soundtrack. It's just dripping with quality tunes which do help make the game more enjoyable than it would otherwise be. I found this game was a little better when running at 60hz. Maybe it's just me but it just seemed to work a little better when running faster and the music sounded better at that rate as well.
OK so if I am to score this game what am I going to give it? Well I would give it seven out of 10. It's a good enjoyable challenging but short game. I don't think it's a world changer or a real classic and to be honest I think with its history it almost makes a better story than it does a game. I would warn you though if you are not the kind of person who can cope with frequently dying and just getting that little bit further each time then this is probably not the game for you. If you want to buy it then boxed copies tend to sit around the £35 mark with loose cartridges being about £15 when I have seen them.