Retro Monday: Mega Man II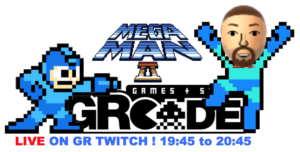 Released in 1988, Mega Man 2 for the Nintendo Entertainment System is widely regarded as the best in the series as well as one of the best games ever made in general. In it, Mega Man returns to save the world by defeating the evil Dr Wily and his 8 Robot Masters by battling through tough-but-fair 2D action-platforming levels.
The core gameplay loop of blasting and jumping your way through each themed stage is a lot of fun, even though they present a solid challenge. Despite the difficulty it doesn't feel too unfair, dying is generally down to player error however respawning enemies can make it feel more like luck and can ruin precision movement and jumping. As with previous and successive Mega Man games, defeating each Robot Master unlocks their particular weapon for use in other levels. These range from conventional weapons like metal saw blades to bubbles, yes bubbles, which are more effective against certain bosses, however weapons like the Metal Blade are a bit overpowered. Despite the breadth of these weapons they are all effective and don't feel like they're included for padding out game time or content.
Each level has a clear and crisp visual style and is themed around its respective Robot Master, giving the game a rich and varied visual palette without having to have a convoluted plot to justify the changes in scenery. For example the Wood Man stage is in a forest and the Heat Man stage is in a furnace/industrial factory. This variety is reflected in the soundtrack too, continuing the series' reputation for catchy and memorable chiptunes. There is some sprite flicker, however Mega Man 2 doesn't have the awful framerate drops present in Mega Man 3.
I have a long personal history with Mega Man 2; I played it a lot when I was young and played it through to completion about a year ago and keep an eye on speed run events to see it being done as quickly as possible. It really is action platforming at its best, a template which has seen a resurgence in recent years through games like Super Meat Boy and Shovel Knight, retro de-makes/direct sequels like Mega Man 9 and 10 as well as spiritual successors like Might No.9 with varying levels of quality and appeal.