150 SNES games reviewed: #6 The Rocketeer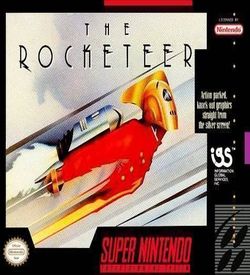 So I tried to play The Rocketeer and prior to the game starting there were a few screens with drawings and words, but with my Japanese copy they were of very little help.
The game starts and what I am met with is nothing like I imagined. In my head this game was a 2D R-Type style shoot 'em up, where I flew from left to right as the rocketeer saving the day and instead here I am flying a yellow what looks like a crop dusting plane against a red and a blue plane round and round these pillars in a race.
The controls are clunky at best and things seem to favor the AI controlled planes. If I hit them it send me towards the ground. If they hit me the same thing happens, I head towards the ground. I failed to finish the race time and time again. I just can't seem to manage the 10 laps but I push on with the hope this is just the start and if I can somehow get through this there will be the glorious treat of seeing my character strap on the rocketeer's rocket pack and I will be flying shooting and doing something much better.
Eventually I finish the race but in second place, I am shown the same failure screen I have been met with so many times before, but I try again and again spurred on by the hope of something better – eventually. I finish first I scream to the heavens in triumph – rocket pack here I come – but no I am robbed. I am back in the plane racing again but this time I need to complete 15 laps not 10. Another hour passes, I get better at managing 10 laps, but can't manage 15 so I am stuck. I press reset and leave the machine in the hope it will play a gameplay demo which will at least show me some future stages. I need to see something worth playing to renew my hope.
So I watch with bated breath and the first thing it shows me is what I have just been doing. I wait a little longer and there he is The Rocketeer…. and he is flying around and around racing with the same bloody planes on the same course. This is when I simply gave in, I decided the game might change, you might finish one more race and get the rocket pack and then one more and fight crime but it doesn't matter because I will never bloody see it.
I got this game in a lot of four Japanese games for £10 and that kinda seems too expensive. I won't claim I am the first person to say this – that honour goes to Dara Ó Briain of Mock the Week fame – but:
"Video games are the only form of media which withholds content from its users unless they are good enough at it. A book or film has never quizzed anyone or made them pass a test to be allowed to continue reading or watching."
When I first heard him say this it didn't quiet make sense, after all it's the challenge that makes video games what they are, is it not? Now I have flown around this course 300 times it makes a little more sense. When I reviewed fellow movie license Hook I said how good it was that Tinkerbell just flew in sprinkled you with fairy dust and got rid of the need for levels which would have featured a boring powerless Peter Pan and by playing fast and loose like that with the source material had led to a better game. Well, this kind of treatment would have been very welcome with The Rocketeer, just skip the dull plane flying and races and slap him in the suit from stage one.
The graphics are about as basic as you can get on the SNES and I can say pretty much the same about the sound. I haven't mentioned them until now as even if this was the best 16-bit game I had ever seen or heard it would not make up for the awful gameplay. Another thing that annoyed me is the two player mode. I foolishly thought maybe you'd race against each other but no it's one of those you watch me play a life then I will watch you. A further annoyance is that despite the two player being of a take turns variety it still expects you to have two joy-pads. If it's only one at a time then a pass the pad system would have been a nice little choice. Overall I have to give the game two out of 10, its that blah.
I already mentioned what I paid so how much would you have to pay if you fancy being a video game masochist? There does not appear to be a PAL version as far as I can tell but if you hit eBay you can get a Japanese cart for £5, but again you will need a foreign console, modified machine or converter and a lack of self-preservation.
I recommend you don't bother. In fact I am going to go so far as to recommend a modern game which you can get much cheaper. A game which I think represents the idea of being a rocketeer much better than this piece of excrement, despite being its own IP.  The game I recommend is Dark Void. Sure it didn't get brilliant reviews, but I really enjoyed it and its now super cheap I saw it in Game the other day for £2, and although its never going to be considered a classic I consider it something of a flawed gem.