150 SNES games reviewed: #5 Super Bowling
Super Bowling was made by a developer called KID and was published in Japan by Athena and in North America by Technos.
Sometimes it is unofficially called Super Turkey Bowling as the game and its cover is full of cartoon, humanised turkeys.
I have quite a history with this game basically it came into my life when I saw it in my local games shop called Games World. It was a Japanese copy and it was sat there for the low, low price of £5 for the cartridge. The main thing that drew me to it was that it was a cheap game I could grab with my pocket money. It turned out I didn't actually have to pay for it as my brother stumped up the money and got it for me. He knew I had played a lot on a Neo Geo and arcade game called League Bowling and he was basically hoping that this would be something a little bit like that.
There are three play modes. The first is called Turkey Bowl, and is basically the main game and its straightforward bowling. Then there is golf mode which gives you a set situation with certain pins to knock down in a set number of throws (par). It's actually a neat little attempt at something different. The last mode is practice which basically allows you to set up whichever pins you would like so you can try and train yourself for the best way to knock down the pins if certain situations arise.
The bad part is that there is no story mode, league mode, or AI characters to play against to give this any real longevity as a single player game. All you can really do is play rounds of bowling again and again to try and get better at it and to try to get a higher score. Where the game shines is in its funny cartoon presentation and in the fun you can have with it as a party game. Get four of you around this game laughing and competing and it can become just as good a stable of a multiplayer SNES party as Super Bomberman, NBA Jam or Street Fighter II.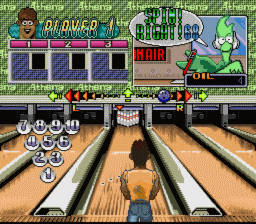 The game plays not unlike a pad controlled version of Wii Sports bowling. You pick your bowler, which hand they will use, what weight of ball and then when it comes time to throw you get to control where you throw it – the power you put into it and if you want to try to put any kind of spin on it. When you score spares or strikes there are short cartoon animations of little dragons flying over your head or angels shooting devils with a bow and arrow and it really adds to the cartoonish glee of the game.
To cut to the chase, what would I score this game? Well I would give it a respectable seven out of 10. It would score higher if they had added more to the single player game but as it stands its a great piece to play with friends but maybe not that necessary now that Wii Sports and Wii Sports U are out and so easy to get hold of. But I do wish someone had used the power and abilities of the Wii to make a modern version of this game. Sure I love Wii Sports bowling but I do think there was room for something with cartoon turkeys twirling in the air, crazy tunes and fun anime style characters. I think the fact that to my knowledge no one made a crazy but good bowling game for the Wii like this is a real shame.
When I did a quick bit of research on Super Bowling, it seems you can grab the US version for about £10. If you look around hard enough and I even saw boxed copies for £15 (my version is Japanese cart only and was a gift). If you want to look for this game you need to realise that there is no PAL version so you need to buy an imported copy and then make sure that you have the means to play it. Also ideally I would say make sure you have the friends to play it with.