150 SNES games reviewed #35: UN Squadron
U.N. Squadron is a side-scrolling shooting game which came out in arcades in 1989. It was programmed by Capcom and released for use on their CPS arcade hardware. I won't explain what this was but if you look back at my Final Fight review there is an explanation there.
The game was released in Japan under the name Area 88, the same name which was used for the Super Famicom (Japanese version of this game).
The game is a typical side-scrolling shooter, unlike many of Capcom's other shooters around this time such as their 1940 series which are vertical-scrolling shooters. It was based on a Manga series Area 88 which never really came to these shores. But the game has a nice intro which explains the rough idea behind the story.
Unlike some shooters which are one hit and you're dead this game is a little different. If you're hit then your plane is damaged but if you can keep it safe from harm for a little while then you'll be fine. This actually adds to the excitement, you will find yourself going: 'OK I have got to keep away from the enemies as you keep trying to dodge incoming fire and hold on'. When you manage it you will thump the air in triumph, and when you fail you will curse yourself for not having quick enough reflexes but the main thing is it always feels like any failures are down to your own lack of skills.
Before starting a level you get the option of purchasing special weapons or added defense options from the shop. As you shoot down enemies you gain cash and at the end of the level any special weapons you purchased and did not use get converted back in to funds and added to your cash reserve. This is a great little addition as once you get better at the early levels you can try to challenge yourself with the added benefit of an easier time in later missions by trying to complete the earlier ones on a strict budget allowing you to hold back enough money to kit your plane out with lots of special weapons for the later missions.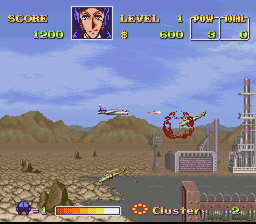 If you were a big fan of Capcom then the SNES was definitely the machine for you to get your arcade fix on back in the day. If you have read my Final Fight review then you might be asking what has been dropped from the original arcade version?
Well the SNES version is not an exact replica of the coin-op. Yes, it is a port and yes, this port does have certain things missing and disappointingly one of these missing things is once again the two-player mode. Some of the game's levels are different or modified from the arcade version but it is not always in a bad way. It's not really a worse version. it's more of a slightly remixed version. In this case they didn't just strip things from the game, there are actually a few additions including some more weapons and the chance to purchase different aircraft. Ignoring the missing two-player mode this game is no worse than the arcade machine, it's just a little bit of a different version.
With bright graphics, enjoyable music and epic action it is hard to see what this game could do better. The end of the level will see you meeting some kind of large end of level boss which you will have to defeat. At this point you better hope you have held something back to save the day.
I would have to give this game eight out of 10. It's a darn good scrolling shooter. The only thing it is really lacking which would make me bump the score up would be a two-player mode, at this point some of you must be wondering if Capcom ever managed to bash out a high-quality SNES game which catered for more than one.
If you want to try this game you will most likely be paying £15 minimum for a cart of it. I managed to get one for £10 but it took a heck of a lot of looking around and waiting. Capcom have actually made quite a few of those classic collections but U.N. Squadron has never seemed to make the cut, and this is probably one of the reasons it holds its price.