150 SNES games reviewed #33: Battletoads in Battlemaniacs

If I was to say Rare in relation to games to most people then they would probably think about the Nintendo 64 and about Banjo-Kazooie, Conker's Bad Fur Day, Perfect Dark and Goldeneye 007.
To me though Rare are so much more than that. I can remember their NES games and I also remember even further back when it was named Ultimate Play the Game and was bringing corker after corker out on the ZX Spectrum. Atic Atac and Saber Wulf were much talked about in the playgrounds of my youth. This is  where I need to briefly stop the review and say go buy Rare Replay and play the living heck out of all of the games and then when you're done, grab everything you can that's missing from it.
Now it's time to get back to business. The game I am going to talk about today is Battletoads in Battlemaniacs. It is a platforming beat 'em up game from 1993 developed by Rare and published by Tradewest. Tradewest no longer exists and Rare – well, I could write a whole article about its fate. The short of it is it is still around but now it is owned by Microsoft and has spent a lot of time making Kinect-based games and hats for Xbox Avatars. Thankfully it has recently made a real game again so here is hoping it has a brighter future ahead of it.
Battletoads in Battlemaniacs was not the start of the story though. This series began with the original beat 'em up Battletoads which was released for the NES in 1991 (this title was ported to the Mega Drive, Game Gear, Game Boy and Amiga). The Battletoads were largely created with the purpose of trying to be rivals to the Teenage Mutant Ninja Turtles and their video games. In fact at the height of Battletoads' popularity they even managed to get a television cartoon pilot although this – unfortunately or fortunately depending on if you have seen it and what you thought of it – never got spun off into a full series. If you enjoy 80's television cartoons I recommend you track the pilot down.
The original Battletoads was a very popular game. It was fun but brutally hard. It was a good beat 'em up with a two-player mode, but it also had sections where you rode on hover bikes and these were mercilessly hard. Worse still, if you were playing them in two-player mode and one of you crashed you both had to start that section again, which led to screaming arguments and shattered friendships.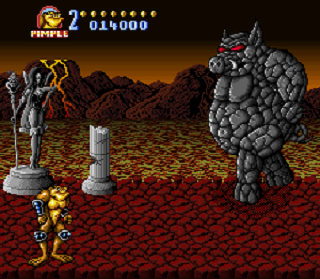 Battletoads in Battlemaniacs follows the story of two of the Battletoads, Rash and Pimple, on a quest to stop Silas Volkmire and the evil Dark Queen from ruling over the world while rescuing a princess and their fellow toads. Many of its levels are enhanced or remixed versions of levels from the original Battletoads, so its a sort of semi-sequel, semi-remake.
The first thing you will notice is that the sprites in this game are large and the game in general is very colourful. The soundtrack is kind of basic but the music suits the game well.
This game is not just a beat 'em up, it's a massive mix of things. Yes, you will fight but then there is also hoverboard racing platforming, and much like the original NES version, the game is enjoyable but sections of it might have you tearing your hair out. If you like hard games with a sence of humour then it might be just for you if however if you hate games with challenging pieces that you're going to be having to try and try again then you're going to hate Battletoads in Battlemaniacs. This makes it a very hard game to rate because its overall quality depends on the kind of person who is playing it. Therefore a score I give it might in fact be meaningless to you. I have never completed Battletoads in Battlemaniacs, but I have spent a very long time trying in the past. I see it as a challenge which keeps on bringing me back.
Personally I would give the game seven out of 10. it's fun, there is a fair degree of variety and its a good game to play with friends – as long as they enjoy a challenge. I have to warn again that if you hate games that will see you die again and again on certain segments then this is not for you.
This game was before Rare's partnership with Nintendo. In fact it was as far as I know the last game it released for the SNES before beginning to work on projects for Nintendo. It had invested its significant profits from games during the NES period to purchase a bunch of very expensive Silicon Graphics workstations. This move made Rare the most technologically advanced developer in the UK, and I think most of us know what this led to.
If you want to purchase Battletoads in Battlemaniacs then you're looking at anywhere between £13 to £18 for the cart, and if you want a copy in a box in good condition then you will probably need to look at around double that range. I looked at buying it in a shop cartridge only for £18 but instead ended up buying a cart from online for £14 including postage. This is the most money I have spent on a game specifically for this series but I also feel that copies of this will become rarer in the coming years.