150 Mega Drive games reviewed #4: Buck Rogers: Countdown to Doomsday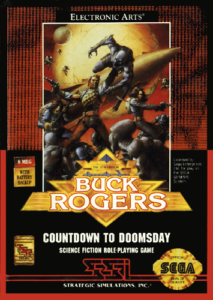 I have been reviewing games, writing blogs and making YouTube videos for quite a long time now, and there are a few games which I have found myself repeatedly returning to. One of these is Buck Rogers: Countdown to Doomsday.
I made a YouTube video about it many years ago and I have talked about it several times on my blog. I guess there is some reason that I keep returning to it. Even before all of this I have had a long history with this game it was one of only a handful of games that I ever actually rented for one. In fact, Mega Drive-wise I think I only ever rented about four games. All of these were before I owned an actual Mega Drive and were rented along with a rental console.
The main thing that drew me to Buck Rogers: Countdown to Doomsday was the name. I grew up watching the old Buck Rogers show when it was rerun on Saturday afternoons, as well as Battlestar Galactica, Star Trek, Lost in Space, Doctor Who and Blake's 7. Watching science fiction shows and movies was the main way I spent time with my dad. Usually he would get home from working long, hard hours and he wouldn't have the energy left to play ball or do something like that so we would watch science fiction. Heck, watching sci-fi stuff pretty much is still our main way of hanging out with each other.
So basically I was in the know about just how cool a certain Buck Rogers was and how awesome his universe was and that made me want a piece of that – I wanted to shoot bad guys and go to space. I still think Buck is cool to this day even though I later learned that he didn't swear on TV during a space dogfight like I believed he had when I was a kid. (During an episode of the show he asked a pilot if there was something wrong with his 'Funk & Wagnalls' which I heard as 'there is something wrong with your fucking wagnalls'.
No idea what a wagnall would be, but I basically believed he was cussing the guy out and he was so cool he could get away with it during daytime TV. For those wondering what Funk & Wagnalls means its basically an US brand of dictionaries and encyclopaedias, so it's a way of him saying 'hey, do you know what you're on about?'.)
OK, that's enough about me and the TV show lets move on to the game. Well the game was an RPG set in the Buck Rogers universe. It was developed by Strategic Simulations and published by Electronic Arts and it came out in 1991. During the Mega Drive's glory years EA was responsible for porting a large number of games across to the Mega Drive from the PC and Amiga. Personally I think this was a great thing as it opened up console players to a world of games which had previously been merely the domain of home computer users.
Buck Rogers was made on a very famous game engine called Gold Box which was used for the classic Dungeons & Dragons series of games from the 80s and 90s. If you've played any of the Forgotten Realms games then you will have played something which uses this engine. I have to admit that when I hired it I didn't know that it was a RPG in all honesty, I didn't know exactly what I was getting myself into I think I just expected some action type of game a bit of shooting and well something a lot simpler than this.
What I was met with was the ability to make my own team of individuals and to then enter a conflict which was taking place in the world from one of my favourite TV shows. From this point on though the game was just this gift that kept on giving. To go back to the beginning you start the game by making a party of six characters. It's all based on dice rolls really. You make the characters one at a time and you do it by choosing the character's races, genders and classes, and then you basically do a digital dice roll for HP, attack power, defence, etc. You can do this again and again though until you get the result you want. Then you name your creation, choose an on-screen sprite to represent them and finally use some assigned points to train them in the skills of your choices, including things such as tactics, perception, stealth, demolition, etc. If you're anything like me then you will probably rip names off from other games or TV shows. I frequently used names like Kirk and Spock when growing up as well as the names of various Transformers. Still it helps the game in the long run because you get really attached to the little guys and cant stand the thought of them dying. Very few games have made me feel this close to my characters and this concerned for their welfare and those games would be games from the X-COM and Fire Emblem lines.
At first after having made my squad of six I was walking around an isometric game environment getting into random battles which are handled in a turn-based way. First you move and attack and then the enemy does the same and this repeats until someone has won the battle. After each battle you have the chance to root through your enemies remains in the hopes of finding something good in the spoils of war or just grabbing absolutely everything so you can sell it later.
When I had finished a couple of missions and I was given the ability to pilot my own ship around the universe well that's when the game really began to open up. It really stopped feeling like just a game and became a sort of second life in the way that only the best games do. The story grabbed a hold of me and pulled me in to the universe itself. The funny thing was I had an Amiga in the house and as I have learned since this game was actually available on the Amiga but at the time I didn't realise this was the case and so Buck Rogers: Countdown to Doomsday became one of the reasons I wanted a Mega Drive even more than before. (I originally wanted a Mega Drive because my brother's friend brought a Japanese imported one to the house with a handful of games.)
I think I need to talk at least a little about the game's sound and graphics, so let's start with the sound. The music is rather basic. In fact most of it is made up of very short repeating tunes which a lot of people would probably find repetitive. In all honesty though I kind of like the music. Yes, it's basic. Yes, it's repetitive but it also fits the tone of the game. It's action packed and dramatic when it needs to be. There are a lot of different sound effects. Each and every weapon has its own crack, buzz or sizzle noise – a rocket pistol sounds different to a laser pistol, for instance. There is even a tiny bit of digitised speech here and there in the game which for its time and a game of this scope on a cart has to be admired. The graphics are about as basic as you can get, but they work. They are basic but highly functional and full of little nice touches. There are some great still frame comic-style scenes shown at certain points to tell the game's story.
With this game being a strategy game I didn't really notice any difference when trying this game at 50hz and then 60hz.  I guess the speed difference is more of a deal when playing games which have a fast pace to them.
It is time to score the game. I am going to give this game 10 out of 10. Yes the graphics could have been better and the music could have been better, but the game itself is so good that once you get into it none of this matters. This game is one of a kind on the system, there is nothing else quite like it and I recommend this to everyone. I kind of see this game as a sort of Mass Effect for the Mega Drive as the games although differing in style are in fact kind of similar in feel.
I would have loved this game to either get a sequel or a updated remake on a later console. Actually while talking about sequels there was a PC only sequel which I have heard mixed things about. It's actually considered abandoned ware now so you can download it and play it on your PC using DOS Box. I do wish though that some enterprising individuals would try to use the engine behind Countdown to Doomsday to construct a Mega Drive rom based on its PC sequel. I know someone will say why don't you do it if you're so into the game but that is something far beyond both my time and skill. As much as I love games I have never understood a thing when it comes to how they are made, to the degree that as far as my brain understands they might as well be made by fairies clapping or wizards waving there wands.
If you fancy giving the game a bash yourself then you can expect to pay around £10 for a loose cart, with boxed copies usually starting at about £15. If you keep your eyes open. I really feel this game is worth the cash and worth your time.